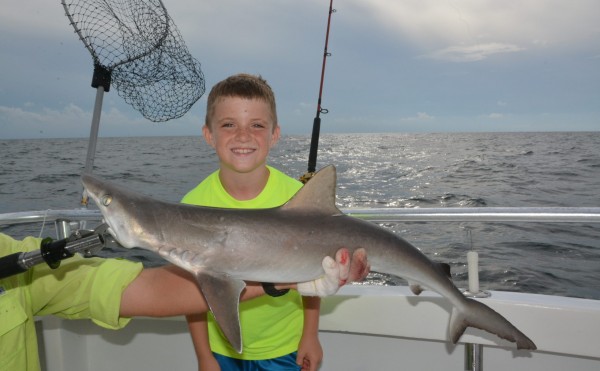 Fall Fishing Is Red Hot On The Alabama Gulf Coast
Fall offshore fishing season has begun and September and October deep sea fishing is forecast to be red hot on the Alabama Gulf Coast.  For years, Orange Beach and Gulf Shores have been a destination for those couples without kids and with those who have children younger than school age, who are looking for some great deep sea fishing and some red hot light tackle action. 2015 is certainly shaping up to be another great year for fall fishing here in Orange Beach, Alabama.  The weather has been hot, but the seas have been a lot calmer than usual, which makes for some really beautiful water clarity.
The big king and spanish mackerel are here through the end of October, and are biting  well right off the beaches on our shortest 4 hour trolling trips.   These migratory fish are making their way back around the gulf and are heading toward south Florida for the winter.  The best bite for them has been early morning or late in the afternoons.
We have been finding a few mahi mahi (dolphinfish) around floating debris farther offshore on our half day and full day trips.  Coming across them is not an every day event, but you can rest assured that if we see something floating on the surface, there are fish schooling not far below.   We never pass up an opportunity to stop and let you have some fun catching these acrobats of the sea.
The popular reef fish species like red snapper and triggerfish are out of season until 2016.  Triggerfish opens January 1 and snapper opens on June 1 for charter boat anglers.  Since Alabama has so many artificial reefs, it is hard not to catch anything else but these two popular reef fish species on any of our deep sea fishing trips where we are bottom fishing.  If you want to have some fun and don't mind releasing your catch, the half day (6 hour trip) gives you the right amount of riding and red hot fishing.  On almost every half day trip, someone gets lucky and hooks into a big shark.  These fish offer one big fight that will rival any fish story you have ever heard.
For those of you who want something for dinner, we often catch other species like vermilion snapper, red porgy, mangrove (black) snapper and some smaller almaco jacks.   These fish are small (10 to 12 inches) mostly, but are an option for those who want something to eat.   As long as the seas are calm, we can try chumming the fish and seeing if we can get a big ling (cobia) to come to the surface so you will have a chance to catch one of these big game fish.  They have to be 33″ fork length to keep.  All of these other species are always in season and you are welcome to take some back to the condo or restaurant for dinner.
If you are looking for a fun fishing trip this fall, we hope you give us a call and schedule your red hot fishing trip.