Half Day Premium Fishing Charter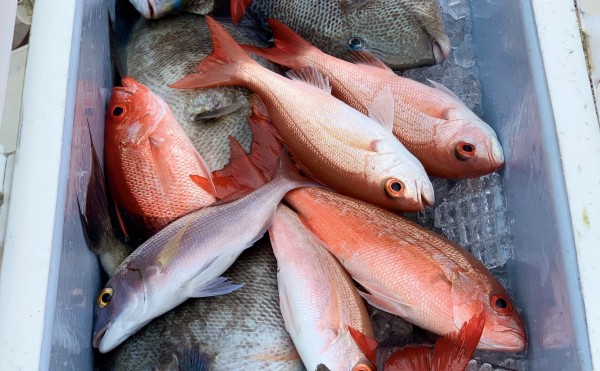 Should You Book A Half Day Premium Trip?
The answer is yes, if your budget allows it.
If you are like most families and first time anglers, you simply want a good experience for everyone.  The regular half day trip is the best trip we offer for the investment.  You can expect to catch a lot of fish and see smiles on everyone's faces.    However, for those of you who have been fishing with us in years past, you may want a little more out of your trip.  That is why we began offering the half day premium trip.
The Regular Half Day Trip – What to expect
This is our iconic trip that everyone loves.  There are a lot of fish in this area that will offer you a good fight and some great memories.  The only thing that has changed with this trip is, the larger red snapper we were catching a few years ago are not as plentiful as they were.
What we do differently on half day trips now is to troll out, trying to catch migratory fish like mackerel and bonito.  Mackerel are really good to eat.  When we get to our artificial reefs, everyone will hold their own pole and learn how to catch fish.  If you participate, you will catch a lot of smaller red snapper and triggerfish.  You may catch some larger ones on these trips, but those fish are really smart and often don't bite regular or traditional heavy tackle.
The Premium Half Day Fishing Charter – What to expect
Because we have some customers who want a chance to catch a little more variety, we are now offering a premium half day fishing trip.  This charter is in addition to our regular half day trip that we are famous for.   This premium fishing charter trip is ideal for those who have been fishing before and have the budget.   Some of our customers have the desire to go faster, farther offshore, possibly catch a few more varieties of fish like vermilion snapper (beeliners),  red porgy (white snapper) and tomtates (grunts or ruby lips) in addition to red snapper and triggerfish without losing any fishing time.     On our premium trip, we take you beyond 16 miles and out to as far as 22-25 miles where fishing may be a little better and you may have a better chance to catch a larger fish using live bait.
Going faster and farther hopefully will allow us to get away from other charter boats or private boats who stay close and fish within 15 miles of shore.    Going faster and farther requires us to burn more fuel.    Since burning more fuel costs more, we have to raise the price to cover that extra expense.  Running hard puts more wear and tear on our boat and puts us that much closer to maintenance and engine rebuilds.  So, it makes business sense to cover that expense.
The half day premium trip takes you to areas that may offer better fishing opportunities or catch more species of fish that may be in season.    Warning:  If you want larger fish like amberjack or grouper, you will need to book a full day trip to even have a chance.  You will also need to book that type of trip when they are in season.   Amberjack come into season on August 1 to October 31.   Grouper come in season in July 1 to December 31.
Our goal is to make sure you are happy with our service.  We want you to catch a lot of fish.  If this premium trip is not for you, we encourage you to stick with our most affordable half day regular trip.   We promise to give you our best on whichever fishing trip you desire.
However, if you want to do something a little different, the half day premium trip may give you that little extra something that you long for.  Ultimately, your budget will determine which trip you choose.  Or company is simply offering you something different than any other fishing charters around.
How Weather May Affect The Premium Fishing Trip
If weather and sea conditions don't allow us to run fast and get you farther, we will happily adjust your fishing trip to the regular half day price.  We care if you get a return on your investment and will always do what is right.
Make your  premium reservations!