About Distraction Fishing Charters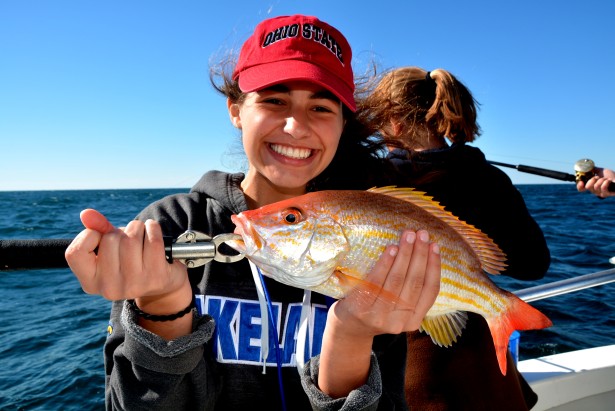 Distraction is a 6 passenger vessel.  This means, we can only take a maximum of 6 customers per trip, per US Coast Guard regulations.   We set sail from the Orange Beach Marina.   Our slip is E12 or just left of the dock store.   Our mission is to provide family's and first time anglers with a deep sea fishing experience that is so special, it can't be found elsewhere.   We believe every deep sea fishing trip creates opportunities to experience something new and exciting.   We maximize your fishing charter by doing what other captains and guides will not do for you.    For you to maximize your experience, we feel it is very important to interact with your captain and deckhand.   This way, you will enjoy your fishing trip better.  We are not like other captains and guides.  We both greet you and interact with you during your entire trip.   This is important for those who want to see what we do to put you on fish.  Back in 2002, Distraction set the standard for family deep sea fishing charters and what it is today.  Our journey has been nothing but fun and rewarding for both us and our customers/friends.
We Are Obsessed Where We Are Going, Not With Our Competition
As you can probably already tell, we are different than the rest of the fishing charters in Orange Beach, Alabama.   All too often we find other charter captains are always in competition with each other.  They battle every day to see who has the best catch or the biggest fish.  They are obsessed with their competition and not with their customers receiving the best experience.   We are not like that.  We don't care what others are doing or catching.   We do our own thing.    That is what makes us unique.  And that is what makes what we do for you, so special.
We are only obsessed with why we do what we do and where we are going.   We have no ego.   All we do is strive to be the best we can be and learn something new every day.   Our goal is to be the best servant and give our guests the opportunity to have fun and hopefully learn something new.   We do these things in an attempt to become better guides.    Some days we are ahead, and other days we are behind.  But every day we are working on ourselves and how we can improve the service we provide you.
Better Service, Better Fishing Trips
With most of our competitors, you will never interact with or even meet the captain.  Your only interaction is with the deckhand.   We are not that way.   Captain Troy is the owner and your host on every trip.  I make it my mission to get to know you.  This is important, because when a captain runs their own boat, you get the best service and fishing trips in the industry.   When you choose the distraction, customer service and entertainment is taken to a whole new level.  That level of service has yet to be duplicated by any of our competitors.   We go a step above and beyond all other fishing charters along the Gulf Shores of Alabama to ensure you get a return on your investment.  What is really unique is, we learn everyone's name on our boat and call you by it.     No other charter does this.  We also have an open door policy.   This means we are able to interact with each other during the trip.  You and your kids are welcome to come up and take the helm and learn to drive a big boat.
What We Do Different
Our charter and guide service specializes in first time, family and children deep sea fishing.    What we do for family's is different than every other charter boat around.  Everything we do challenges the status quo when it comes to providing the best fishing charters and deep sea fishing in Orange Beach and Gulf Shores, Alabama.   From the way we treat you, to the way we look at charter fishing and conservation, you will always get more, when you allow us to serve you.   Our customers are just like us.  You believe the way we do, when it comes to your family getting the best experience and the best return on your investment.  Our customers really appreciate how special we treat them.
Instead of focusing on only filling the cooler or catching a limit, we focus on you and your family having a good experience and learning to catch fish.    Weather permitting, we also allow you to come upstairs to see what the captain does and all the neat electronics we have.  This also allows you to get to know us.  Other charters post signs saying "No One Allowed Upstairs."  We feel that is unfair.  If a deckhand can come upstairs and visit with the captain, a customer should too.  We are patient with you while you are learning how to catch the fish.  Being educators and guides, we interact with your family and kids, so you will get the most out of your charter fishing experience.   If you want a fishing charter who will call you by your name and give you their best, we just might be the right boat for you.
Your host is Captain Troy Frady.  That's me.  I own and operate the 41′ Hatteras named Distraction.   I have been charter fishing on the Gulf of Mexico since the early 1970's (as a child).   I grew up going fishing on charter boats and always thought how I would love to live a life on the water.  Having fished on charter boats on the Gulf Coast,  I knew there was a lot of room in this industry for someone like me.  Someone who cares about conservation, you having a good time and most of all your family.
Why you will enjoy Deep Sea fishing with Distraction!
We take you to catch the same fish everyone else catches, but more.  Your family will enjoy deep sea fishing the way we do it.  With us, there is fun, laughter, humor, safety, luxury, education and a whole lot of reeling.  When you allow us to serve you, you are going to get an experience that is so valuable, you can't find it elsewhere.
We only offer private trips for up to 6 people at a time.   Our prices are the same, whether you have 1 person or 6 in your group.  We can only take 6 people maximum, regardless of their participation.  Our fishing trips are always offshore or away from land.  We call what we do, "Deep Sea Fishing."  Our customers are First Time Anglers and Family's that want to be treated with respect and kindness.  We ensure we don't stress anyone out or put pressure on you while you are learning to catch fish.  This is important.  By calmly letting you engage at your own pace, helps you relax and enjoy your fishing trip.
Where Our Charter Boat Is Docked
We are docked just left of the Orange Beach Marina dock store which is located at 27075 Marina Road, Orange Beach, Alabama 36561
Where We Take You To Fish
We fish south of Orange Beach beach, in the Gulf of Mexico.  Our boat can see land on short trips.  We do go farther offshore where you may lose sight of the top of the condos on our longer trips.  Deep sea fishing can be up to 40 miles out, depending on the length of the trip you book.  Since most of our trips during the summer months are half a day in length, we usually stay within 10-12 miles on our regular charters.  On our half day premium fishing trip, we go faster, which gets you farther.  The distance ranges from 16 to 20 miles offshore.  On the premium trips, you have a chance to catch more variety of fish.  These fish include vermilion snapper, white snapper and possibly a lane snapper.  Our full day trips are where we can target larger fish like amberjack and grouper (as long as they are in season).
Your Captain and Crew's Professionalism
Captain Troy (me) is a former corporate banking executive, transportation manager and commercial pilot that acts professional at all times.   I do love to laugh, tell clean jokes and I find humor in every day life and situations.  I have a way of getting shy children out of their shell and want to hang out with me upstairs.  I even teach them how to drive the boat. Professionalism and safety go hand in hand on our vessel.  The captain crew is drug and alcohol free.   You can rest assured that your family is in competent and qualified hands when you allow us to serve you.  You don't have to worry about us being under the influence of anything other than happiness.
Why Distraction Is Unlike Any Other Fishing Charters Around
Peter Drucker said " You can't be an expert in something that used to work."  Coming from the corporate world of over 20 years, I found that quote to hold true.  Many of the fishing charters we booked when I was a child, those captains habits, mannerisms are still the same as they were 40 years ago.  That is why we offer a different kind of fishing charter, not just an alternative to other ones.   When I tell you we are different, we mean it.  I will explain below my past experiences with other charters for the past 30 years, in order to help you understand why we are the way we are.  For over 19 years, we have been specializing in nothing but family fishing.
We Book Our Own Fishing Trips
Charter fishing companies that book their own boats, offer better over all fishing experiences.   This is because when we don't allow brokers to book us, we are able to invest that much needed revenue back into our business.    When you see how we take care of our boat and tackle for yourself, you will understand what we are talking about.
Reasons You Should Book With Us:
The main reason you need to give us a chance to serve you is, we are just like you.  We know what you expect and want for your family.  We are extremely humble servants and our customers are the best.   From the time you book your fishing charter trip, until we say goodbye, we are always there for you and asking are you satisfied.  We trust our customers and they trust us to always do what is right.  For that reason, we don't require a deposit to hold your trip.  All we need is a credit card number on file like a hotel.  Doing so insures your spot and commitment to go fishing with us.   If you are not satisfied with the way we treat you, we promise to make it right.
Our guides are teachers.  We educate and demonstrate to you, how to catch saltwater fish.   We then demonstrate how to bait your hook and drop your lines to catch the fish.  When you come with us, you will come back feeling like you have accomplished something.  You will be happy with yourself and your trip.
When you allow us to serve your family, we don't put any pressure being put on you at all.  When you allow us to serve you, you can relax, enjoy the sights, sounds and get ready for some world class fun.
Our Goal For You and Your Family
Our goal is to take you to the best fishing spots and keep your poles bent, catching one fish after another.  We focus on you having something tugging on your line every time we stop the boat.  Since we don't fish for limits or only big fish, your family gets to enjoy a relaxing fishing experience where you can actually fish.
As long as the fish are biting, we will let you catch them.  After we have fished a spot and you have caught some fish, we will ask you if you are ready for a break while we move to another reef.  Then the process of catching fish starts all over again.
The Fish and Your Participation?
While most of the red snapper fish we catch on our regular half day trip are average size 14″ to 16." These trips keep you within 15 miles of shore, some of them may be a lot larger that that.  Our longer trips or premium half day trips take you from 15 to 20 miles in distance from shore.  Here you can learn to catch a few more species than you can on the regular half day trip.  We take you to try and catch as many different species of fish as we can, so you can experience what all lies beneath the seas.  As with any fishing trip, the length of your trip, weather conditions, moon phases and your participation are all keys to catching quality fish.  You can't catch them if you are not participating.  That's why we encourage everyone to participate, no matter their age.
Everyone likes the way we explain things so you will know we care about you getting a return on your investment.   This ensures that you get the best charter fishing trip available.  We are conservationists when it comes to deep sea fishing.  We strongly believe that we need to take only what we need from our marine resources.  This is because we want future generations will have fish to catch.  We also do all we can to ensure the fish you catch and release survive.  We do this by using barbless circle hooks and fish descending devices that keep fish from getting the bends.
The Best Fishing Trip We Offer
Our featured year round fishing charter, is the Half Day – deep sea fishing trip.   These trips are ideal for families and first time anglers.  Our premium half day as mentioned above, gets you farther, faster while still giving you the same amount of fishing time as our regular half day trip.   The premium trip is not designed to fill the cooler.  The premium trip gives you a chance to catch some mackerel, vermilion snapper or red porgy, in addition to catching some red snapper and triggerfish.
Our full day trip is about full day is approximately 10 hours in length.  These trips are ideal for family's that want to get out to deeper water which is 28 to 40 miles offshore.  These are ideal for those who have been fishing before, but want to see what all is out there.  Grouper and Amberjack are possible on full day trips.
Why We Do, What We Do, For Families and First Time Anglers
Parents and Grandparents Love What We Do For Them
Whether you are parents,  first timers, have small kids or are involved grandparents, you will find something uniquely impressive when you allow us to custom tailor a deep sea fishing trip that is just right for you.  Our guests have the opportunity to get involved at any level they choose and will learn something new about deep sea fishing in Orange Beach that you never knew existed.  Being parents and grandparents, we want everyone to experience deep sea fishing.  We especially encourage those parents who have children or family members with special needs, to bring them with us.  We welcome them.
In addition to learning something new, your family will have a lot of fun and get a chance to catch some really nice fish using light tackle.  With fishing seasons and bag limits being reduced to just a few weeks or months on popular species like red snapper,  you may not be able to keep any of the fish you catch during certain times of the year.  That doesn't mean you won't catch some quality fish.  We can certainly catch a lot them and take a picture of you holding your trophy or first fish.
We expose you to deep sea fishing in Orange Beach in a way that allows you to truly absorb all of those magical moments and a world of wonder that might be missed if they were not pointed out.   There is so much more to charter fishing than just riding on a boat and filling a cooler.  Our goal is for your family and kids not to miss a thing and to catch some quality fish.
Being different, not just another Alternative.
Deciding to take your family deep sea fishing in Orange Beach it is important to know what we are actually doing for you.  We are family fishing specialist that only offer exclusive private charters.  These trips are ideal for those who don't want to be around a lot of people they don't know or want to be with a professional crew.  All we offer are family fishing and both the half day charters and all day charters are a lot of fun.  We also have two daily departure times during the summer months on our half day trips.  This makes it ideal for those who want to sleep in or rise with the chickens.
We are good at what we do and we focus on making your families fishing trip special.  Simply put, we put others first, and it shows.   One of the biggest misconceptions people have about fishing is, they assume all charter boats are the same.  Well, all boats do have similar bells and whistles and we all catch fish; but what we really do for you is offer great service and work hard to personalize your trip so you will be enthusiastic about your adventure.  We offer a premium service that allows your family to engage at any level they choose.  We love to laugh, have fun and help you learn how to catch fish.
In addition to having a professional captain who acts more like a host and our guests get to take advantage of many services we provide.  These services include a laid back atmosphere,  use some incredible light tackle gear and we take you to fish on reefs that we only know about where you will have a chance to catch bigger fish.   We calm any anxieties you may have about bringing the kids fishing so you can just sit back and enjoy your trip.   There is nothing we love more than seeing a family spend time together and share some really neat experiences.   In the end, you get a trip that is a unique experience and gives you a better return on your investment.
How we custom tailor your fishing trip
When deciding to book a fishing trip for your family or for your kids, it is important to include as much information you can on the reservation form.  This helps me see how I need to start custom tailoring your trip. In addition to basic personal information, we have a space where we ask you to "tell us what you expect to get out of this trip." This is the space that allows you an opportunity to tell us what you would like to get out of this experience or address any concerns you might have.  This field is an opportunity to tell us what you are thinking or to explain what you want out of the fishing trip.  I read everyone of them and use them to help prescribe a custom trip that is unique to your family or group.   Personalized service comes standard on our trips and best of all, we will call each of you by your name.
There are a lot of people who have taken our half day trips in the past, and are now ready to graduate to the next level.  That is why we began offering our All Day charters.   They have been hugely successful and popular among many of our past guests.
Leading The Next Generation Of Charter Fishermen
Since early childhood, we dreamed how if we had our own charter boat, we would do things differently.   Judging from our own past charter fishing experiences dating back as far as the early 1970's, this gave us an opportunity to capitalize on and blaze our own trail  by offering value added services to you.  Over the years we made mistakes, but we learned from them and made an effort to change.  Instead of fighting "the way it has always been done", we evolved, grew and have now grown our small business into one of the most successful charter operations around.  We did this by communicating with our guests and heard what they were saying.  By doing so, we began offering families something uniquely different than any other charter company around.  We became the first of what is known now as The Next Generation of Charter Fishermen.  We are caring, considerate, responsible and an accountable operation.  We created a company that attracts like minded anglers, who really care about their family having a good first experience.
You will be extremely pleased at how gentle and professional we are with your family and children.  When you choose one of our exclusively private fishing charters in Orange Beach, Alabama, you and only your family or group will be on the boat except for our professionally staffed captain and crew.
[adrotate group="2″]