New Charter Boat Fuel Tanks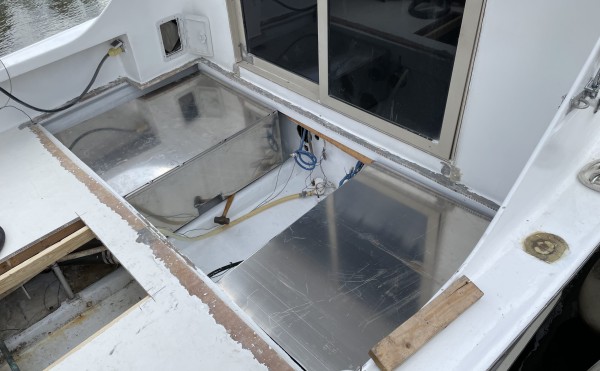 New Fuel Tanks For Our Charter Boat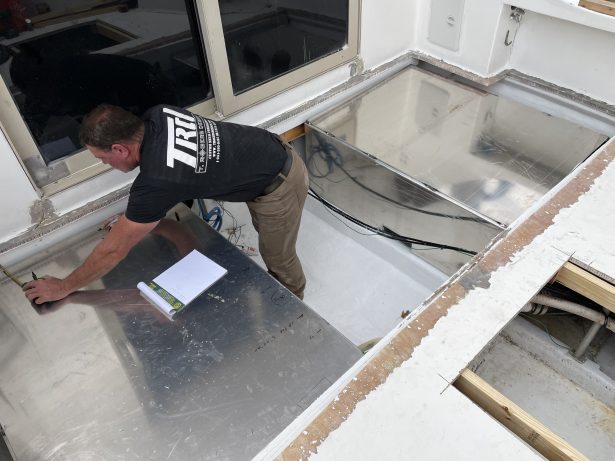 I put the boat in dry dock near Orange Beach, Alabama on November 6, 2022.   I began the lonely and long project of removing our original manufactured 150 gallon fiberglass fuel tanks.    The tanks served us for over 20 years without any issues.  I have never seen what all was behind, beneath or inside of the old fuel tanks, so my curiosity was getting the best of me anyway.   Before I started, I wondered about what all is going to be involved with removing and replacing the old fuel tanks.  I had no idea how hard or easy it was going to be to finish this major project.    This was a project that I wanted to be perfect.
The reason I wanted to replace the fuel tanks, was to increase my overall capacity and range.   Since fishing close to shore has changed in the past few years, we are finding ourselves having to go farther offshore, in search of quality fish.    Having more fuel available, allows us to run farther or more hours offshore without worrying about having plenty of fuel on board or fueling too frequently.   Even though most of our fishing charters are 6 hours in length, we are now having more people wanting want to go farther offshore or take longer trips.  When we go farther offshore or stay out all day, we are able to fish for many different species that are not available in the half day territory.    Replacing fuel tanks just makes sense.   It was time.
The New Fuel Tanks Size, Material and Project Costs
Our two new aluminum fuel tanks hold approximately 200 gallons each.     These new tanks are made from 1/4′ thick 5052 marine grade aluminum.     This is double the strength that is required by the US Coast Guard.   To date,  I have invested almost $46,000 so far in the boat in fuel tanks project.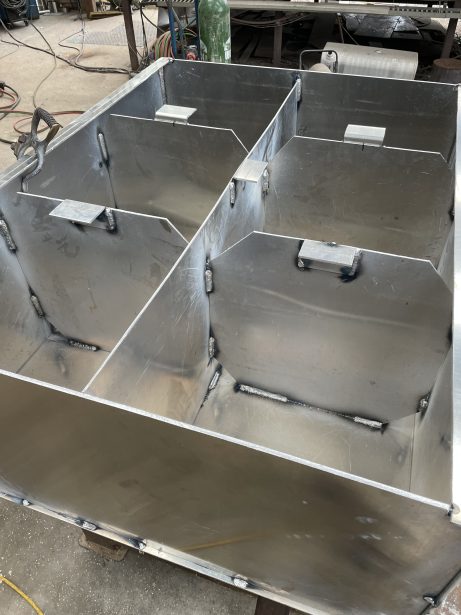 What All Was Involved In Removing Old Fuel Tanks
What you need to know is, there is a lot of work in replacing fuel tanks in a charter boat.  I took a skill saw and cut around edge of the back deck.   Doing so allowed me to remove the rear deck.  This is the area where people fish.   Cutting and removing the deck is the only way to gain access to the fuel tanks.  After removing the deck, I then had to remove the wood deck supports between the tank and the deck.   When I got down to the tanks, I then had to cut the top out of each tank.  This gave me access to the inside of the tanks.  I was then able to remove the rest of the fuel.
After I got the old fuel tanks cut out and removed, I cleaned and de-greased the entire area well.  After the area was thoroughly cleaned, I had to add new fiberglass to areas that needed it.   Then I added new fiberglass matting to the longitudinal supports (stringers) that that fuel tanks sit on for added strength.   Hatteras built this boat with hollow stringers or foam filled.   I beefed them up by adding two additional layers of fiberglass to ensure they would support the additional weight of the extra fuel.
While I was working in the fuel tank area, I went ahead primed and painted the area with new awlgrip yacht paint.   This new painted area will be easy to keep clean.   Since I will never be able to reach this area after I seal it up with the deck, I like having peace of mind knowing everything is right in the area.
As of March 1, 2023 we are done with the fuel tank project. It is perfect.   Cant wait to see y'all this year.