Bent Poles and Smiling Faces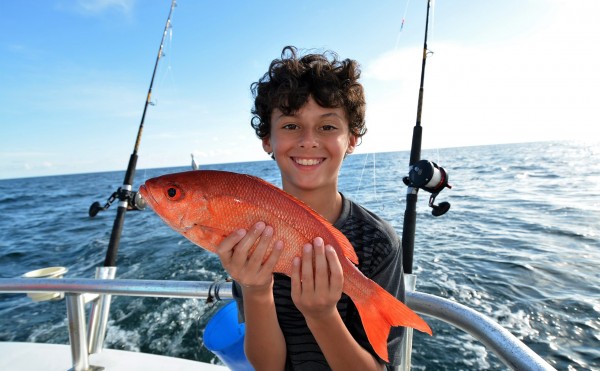 Bent Poles and Smiling Faces While Deep Sea Fishing
The one thing that makes Distraction Charters different than all other charters is the way we approach deep sea fishing.   We are the first to specialize in family fishing.  Our entire trips focus on ensuring you have a safe and fun filled trip with a lot of action.  Our goal is to keep bent poles and smiling faces and to get you fishing as quick as possible. We take you to catch a lot of fish and to keep your poles bent, so you maximize the experience of your trip.   If the fish you are catching are in season and legal size you are welcome to keep them.    Your success depends on you and your family's participation.
If the fish are around, you can catch them.  However, with the large number of people on the water today, we are finding that in order to catch larger fish or more fish, we have to go farther offshore to get fish that are legal size.  Closer to shore, a lot of the reef fish we catch are undersized.  Undersized fish provide anglers with a lot of action and some great memories.
Since keeping everything you catch is not important to most of our customers, we can keep your poles bent and smiles on your faces on most all of our trips.   No matter which fishing trip you choose, we will always treat you right.   Our goal for you is to ensure you get up to speed using our tackle quickly, so you can start catching fish.   If you are shy or have never held a fishing pole, we spend time with you or your child so they can learn.  We educate, demonstrate and let you learn at your own pace.  After you practice using our fishing poles, you will then feel confident in learning how to catch fish.   Our goal is to quickly get you up to speed so you can have bent poles and smiling faces.
If you want a trip where you can catch more legal size fish, please budget for a longer fishing trip like our full day charter.