No Expense Spared – Our Charter Boat Renovation Project 2016 is Complete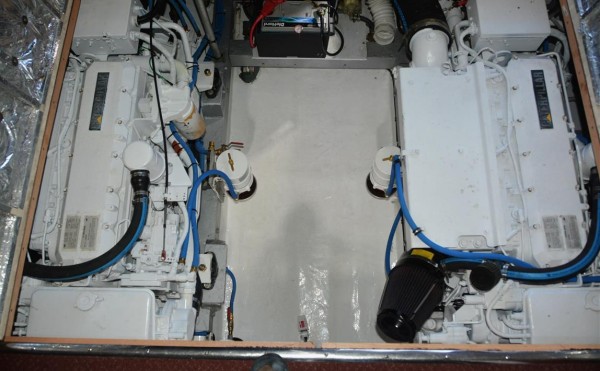 Our Charter Boat Renovation Project for 2016 Is Done – We are now ready to fish!
The winter of 2015 through the spring of 2016 was the longest time period I have ever experienced in the boat yard since I bought the boat in 2002.  For 3 1/2 months, I  had the Distraction Charter boat out of the water and up on blocks where I could get to everything including my engines in a reasonable manner.  This year was the year I designated as the one where my engines got re-built and all of my wiring and plumbing got replaced.  These projects I am talking about are something our fishing customers ever get to see, but if these things were not done on a routine basis, your fishing charter can end up being delayed or cancelled altogether due to malfunctions.  I want to report to you that we are now ready to fish and our boat is ready to go.
Some Didn't Understand Why I Pulled Perfectly Good Engines Out Of My Boat.
When I told a few captain friends of mine last May, that I was planning on having my engines re-manufactured at the end of the 2015 season, they looked at me real funny and said, "Why in the world would you pull perfectly good running engines out of your boat and spend all that money on them, when there is nothing wrong with the ones you got?"   I told them, it is time to do it.  With puzzled looks on their faces, many of them said, "I wouldn't spend a dime unless they had too."
Well, I come from a different industry where fleet maintenance on over 9,000 trucks and 21,000 trailers was as important as generating revenue.   In my past, I learned that providing reliable service was a direct result of having a fleet that was well maintained.  Besides, there is nothing more embarrassing than having your customers on board the boat and your engine won't start or worse, something in the engine room or electrical department has failed.  Being a boat, saltwater takes its toll on equipment and sometimes things don't work as they should.  All I know is, if I do maintenance routinely , I hope my customers never having to see me open the engine room hatch and try and figure out what is going on or why an engine won't start.
The things we did to our charter boat so she will be ready for your trip: