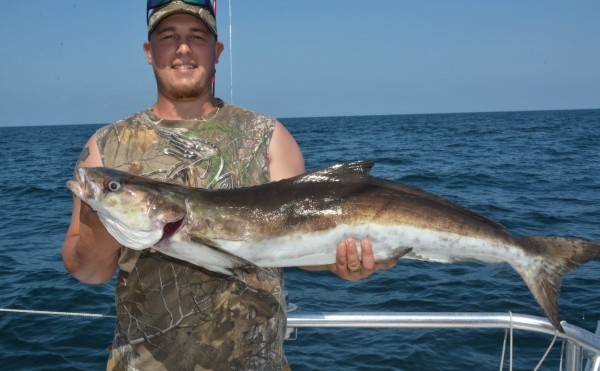 The Spring Fish Migration is Underway
The spring fish migration is well underway here in Orange Beach, Alabama.  The cobia, spanish mackerel and the king mackerel are migrating into and through our waters just offshore.  This year has been a little different than years past, with the fish arriving almost two weeks later than normal.  It seems like each year is a little different than the last, but just like clockwork, they migrating fish eventually show up and come in.  The water temperatures are fast approaching 77 degrees, which is good.  When our waters reach 85 degrees later in the summer, we should be expecting a few more species like mahi, wahoo and even a few sailfish.  For now, the spanish mackerel and cobia came through in the nick of time to get the summer fishing season kicked off.
The spanish started showing up a couple of weeks ago and catching them has become more frequent than it was during the beginning of the spring season.  They are running anywhere from 15″ to over 25″ right now.  Spanish are moving through our waters and they migrate back through our waters during September through the end of October each year.
The cobia on the other hand, are not as abundant as they once were.   In our opinion, they have undergone over fishing, but are not over fished.   These migratory fish come through our waters each year beginning in mid to late March and usually peak out during the second and third week of April each year.  We are seeing a few being caught, but the landings are way down as compared to years past.  We are really hoping they are still coming through our waters and hoping they are going to be settling in on the artificial reefs this summer so our customers can catch a few.
King mackerel are following the bait fish that is finally showing up just offshore.  These early summer kingfish are small to just barely legal right now.  They grow rapidly and it won't take long before they reach the 24″ fork length that is required to harvest them.
If you really want to have some fun, book your deep sea fishing trip and we will see if we can't put you on some of those migrating fish like spanish, kingfish, cobia, wahoo and mahi mahi this summer.