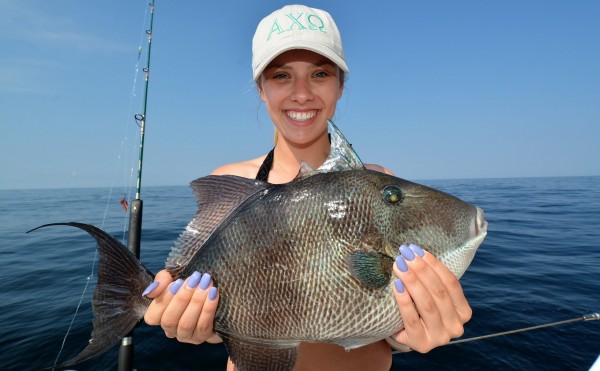 Light Tackle Fishing Charters in Orange Beach
The waters south of Orange Beach and Gulf Shores, Alabama offers some excellent light tackle fishing opportunities. If your family is visiting the Alabama Gulf Coast for the first time and want to have some fun, you need to come along with us and experience saltwater fishing, the way it was meant to be. Our new and well maintained light tackle fishing gear will give your family and kids the opportunity to catch some nice fish.
One of the best things about fishing with a charter boat that specializes in and lets you use Light Tackle, is the fun you will have when using it. We are the first fishing charter in Orange Beach that specializes in and only uses light tackle while deep sea fishing. Every saltwater angler dreams of catching a big fish or at least having a chance to catch something big.  We just happen to be the boat that can take you to get it done.
Outsmarting Big Fish Using Light Tackle
The larger fish are usually smart fish. They have evolved and are harder to catch using conventional tackle that everyone else uses.   There is an old saying down here. The easiest fish to catch are the dumb ones. Well if the truth be known, those less experienced fish will bite 50 or 80 lb test line almost every time.  Reeling in a fish with a winch or with heavy tackle is about as much fun as driving a boat while it is on autopilot. Smart fish or larger fish that are under constant fishing pressure, will often not bite heavy line test. The only alternative is to lighten the line and use light tackle and outsmart them. As saltwater fishing guides, we are always trying to improve our fishing skills and look for innovative ways to get you the best experience. We thought of how much fun it would be to let our anglers actually have some fun fishing with light tackle in the saltwater. Since most of our anglers are families with kids, we wanted to let them to be able to enjoy fishing with light tackle.
We invested in light tackle years ago. It was expensive but the investment in a new style of deep sea fishing has paid off for us. Each year, we continue upgrading our tackle so you have a better experience fishing.  By using new or well maintained gear assures malfunctions are few.   Our guests are happier than they have ever been. The introduction of light tackle fishing in Gulf Shores and Orange Beach has caught on like crazy with our guests. Saltwater anglers can now hold light tackle in one hand and fight bigger fish without getting tired from just holding big, bulky tackle and traditional gear that other charter boats use.
Ask yourself:  Would my family really enjoy light tackle fishing?
The answer is YES!  Would you like to get more bites and catch bigger fish when you use light tackle in Orange Beach?  Can you imagine your rod bent all the way over and can feel the fish peeling drag?  Do you think light tackle fishing would be fun for the whole family? If you answered yes to these questions then you have decided on what type of deep sea fishing would be best for your family.