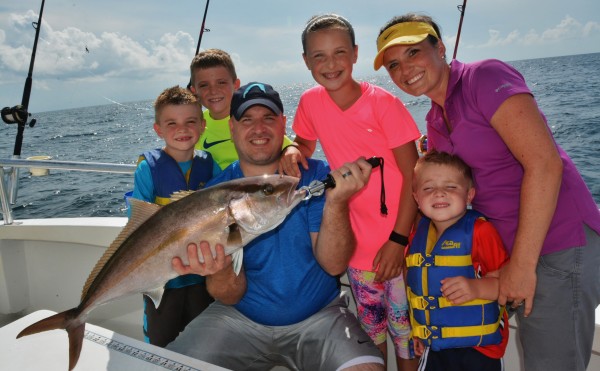 Family Friendly Fishing Charters
Family friendly fishing charters are trips that are suitable for every member of the family.  Our trips are especially suitable for children.    Being the first fishing charter to specialize in family fishing, is special to us.  Being family oriented is who we are.  Family friendly is the way we act at all times.
We are professional guides and we treat you with respect at all times.  We don't expect you to know everything about fishing.  We don't care if you or your family asks a million questions.  Our job is to serve you.
Before we came along, families would often leave someone behind at the dock babysitting the little kids.  We don't want you to leave anyone behind.  We are laid back, gentle and have a lot of patience with first timers and kids.  You don't have to worry about hearing any offensive comments or language on board our boat.   If your kids get sleepy, we can lay them down for a nap.  We want everyone in the family to be included in the fishing trip.
Let me assure you of one thing, family fishing is not any lesser of a trip.  In fact, it's a better trip than you will find anywhere around for the number of hours you will be on the water.  Don't take our word for it, we have the trusted fishing reviews to back up our claims.
We take you to catch quality fish and offer a premium service that has yet to be duplicated anywhere near Orange Beach, Alabama.  Families are are our target audience because that is who we are.  We are family men who come from professional backgrounds and know how to be respectful, courteous, safe and fun.  When you choose us, we will take you to catch the same or better fish than most other boats who are on similar length trips.
We don't try to catch you a bunch of small or baby fish just so you you can take a bunch of 1/4 oz filets back home.  Most of the time, those fish are smaller than you would catch back home in your own pond.
We take you out to where the big fish live and give you a chance to catch them.  Because of the short seasons on most species, you might have to let them go.  You will have bent rods and when you get your fish up to the top, you can take a picture.
More About Family Fishing
We believe that taking your family fishing in Orange Beach, Alabama will be the highlight of your entire Gulf Shores vacation.   Our trips encompass a futuristic view of deep sea fishing that includes a focus on family, an educational aspect and very important conservation message.  Another way we are different is, we look at what we do for you through the eyes of a servant.  When you send us a reservation request, we get excited. We immediately know that you are a lot like us and are looking for a uniquely different experience for your family.
Since launching or boat in 2002, we have focused on making peoples lives easier.  Even our reservations are easy.  We don't even require an up front deposit.   Based on the information you provide us in the reservation request, we are able to custom tailor a fishing trip that is right for your family that includes using light tackle and fishing some amazing reefs that produce quality fish.  No matter what fish species are in or out of season, we take your family to catch big fish.  Some you will be able to keep, but others you you will have to let go.
In addition to taking your family to experience fishing, what we really do is make your lives simpler, laid back and stress free.  We remove all anxiety you may have about deep sea fishing.
Educational Fishing Trips
Being a family man with four kids and now a growing number of grandchildren, we know how important it is to try and find activities that are educational, inspirational, a good experience and most importantly, offers value. We have all experienced activities that make you say, "I could do that again." Our goal is for you and your families to have a good time and catch a lot of fish. Most of all, we want your family to enjoy your trip and want you to tell your friends how good we treated you. We want you to feel comfortable with me and to know that your satisfaction always comes before our personal gain.
Our Guest welcome upstairs policy
Our "Guest welcome in the wheelhouse policy" is a huge hit among families.   The wheelhouse is located upstairs.  This is where we drive the boat and all of the electronics are located. We are the only boat in Orange Beach that encourages you to come up. We especially love it when you bring your small kids with you.  We have kids who spend most of their time upstairs with me and we don't mind it one bit.