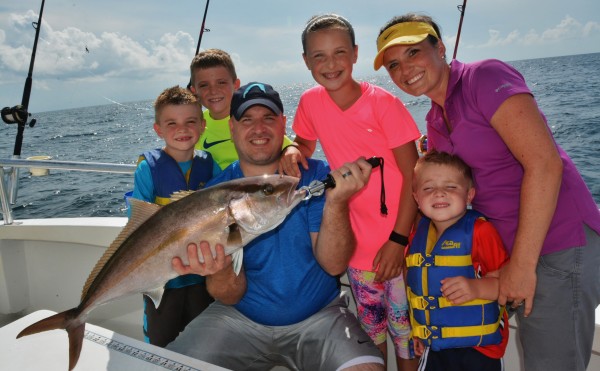 Family Fishing  Charters in Orange Beach
You might be thinking, "What is a family fishing charter and will we get a quality fishing trip if we choose Distraction Charters?"  Family fishing has more to do with the service your receive, rather than the age or make up of your group.   We specialize in family fishing, not just young children only fishing.  However, we do have a lot of customers whose groups are made up of three generations of family members.  We take families with all adult children, school age children, small children and groups who are just friends.  You may even bring adult beverages with you if you like.
We are professional guides and we treat you with respect at all times.  We don't expect you to know everything about fishing, nor do we care if you ask a million questions.  Our job is to serve you, your friends or family by giving you a charter trip that can't be found elsewhere.  We are just the first charter boat in Orange Beach that encourages you not to leave anyone behind because of their age, especially small children as young as 4 years of age.  Before we came along, families would often leave someone behind at the dock looking after the little kids.  With us, we don't want you to leave anyone behind.  We are laid back, gentle and have a lot of patience with first timers and kids.  With our guides, you don't have to worry about hearing any offensive comments or language.  If you bring a young child with you, don't worry about how they will do being on the boat for six hours.  99% of the time, they do just fine.  If they get sleepy, we can lay them down for a nap.  Our biggest thing is, we want everyone in the family to be included in the fishing trip and as long as your group is six people or less, everyone can come along.
Let me assure you of one thing, family fishing is not any lesser of a trip.  In fact, it's a better trip than you will find anywhere around for the number of hours you will be on the water.  Don't take our word for it, we have the trusted fishing reviews to back up our claims.   We take you to catch quality fish and offer a premium service that has yet to be duplicated anywhere in the country.  Families are are our target audience because that is who we are.  We are family men who come from professional backgrounds and know how to be respectful, courteous, safe and fun.  When you choose us, we will take you to catch the same or better fish than most other boats who are on similar length trips.   We are not like everyone else and don't try to catch you a bunch of small fish just so you you can take a bunch back home.  Most of the time, those fish are smaller than you would catch back home in your own pond.   Instead, we take you out to where the big ones live and give you a chance to catch them.  Because of the short seasons on most species, you might have to let them go.  I assure you of one thing, you will have bent rods and when you get your fish up, I will take the best photograph of you holding your catch that you could ever imagine.
More About Family Fishing
We believe that taking your family fishing in Orange Beach, Alabama will be the highlight of your entire Gulf Shores vacation.  When you choose Distraction Charters as your guide service, your family will be treated with the utmost respect and will experience a fishing trip that is amazingly different than any other trip around.   The reason we know what we do for you is different than the rest, is because we created Experience Fishing.  Our trips encompass a futuristic view of deep sea fishing that includes a focus on family, an educational aspect and very important conservation message.  Another way we are different is, we look at what we do for you through the eyes of a servant.  When you send us a reservation request, we get excited because we immediately know that you are a lot like us and are looking for a uniquely different experience for your family.
Since launching or boat in 2002, we have focused on making peoples lives easier and giving them a chance to share a deep sea experience in a way that nobody ever thought of before.  Based on the information you provide us in the reservation request, we are able to custom tailor a fishing trip that is right for your family that includes using light tackle and fishing some amazing reefs that produce quality fish.  No matter what fish species are in or out of season, we take your family to catch big fish.  Some you will be able to keep, but others you you will have to let go.  One thing for sure,  we will do our best to get a good picture and make a movie of your family while you are catching your trophy fish so you will have proof that it was as big as you say it was.
In addition to taking your family to experience fishing, what we really do is make your lives simpler, laid back and stress free.  We remove all anxiety you may have about deep sea fishing.
We were the ones who started catch and release and and to this day, we do not require a huge 50% deposit to reserve your trip.  We are also the only charter boat that does not schedule trips on Sunday's.  That is because we are family people and I feel strongly in spending time with my own family and everyone has to have a day of rest.     We don't try to keep up with the Jones'.  Instead, we take you on a family fishing experience that the Jones' will never fully understand.
Custom tailored fishing trips with families in mind
After spending our first three years in business trying to be like everyone else, we decided to to what we did best and took a whole different approach to charter fishing in Orange Beach.  Before we came along, nobody ever asked families what they wanted to do with the fish they caught.  We were the first guide service to ask customers, "what do you plan on doing with the fish you catch today?"  To our surprise, we found a whole group of people who did not want to keep every fish they caught.  That is when we came up with, " Keep the best and release the rest®", which seemed like a good plan for us.  Upon discovering that handy little bit of information about customer expectations, we expanded our  questions to include:  "Do you want to release them all?  Do you want to keep a few for dinner? "  Not surprising,  by asking these two simple questions, this opened up a whole new way of family fishing in Orange Beach.  We expanded our questions and ultimately began custom tailoring trips that is especially designed for family fishing.
Over the years, we have taken over 17,823 people just like you, deep sea fishing without a single incident or injury.  We have become close friends with many of my past guests and see them at least every year or every other year.   We have been doing this long enough now, we are having the third generations start joining us and that really makes us happy when we see families spend time together.
Being a family man with four kids and now a growing number of grandchildren, we know how important it is to try and find activities that are educational, inspirational, a good experience and most importantly, offers value. We have all experienced activities that make you say, "I could do that again." Our goal is for you and your families to have a good time and catch a lot of fish. Most of all, we want your family to enjoy your trip and want you to tell your friends how good we treated you. We want you to feel comfortable with me and to know that your satisfaction always comes before our personal gain.
Family friendly fishing charters is what we are known for
Our guests tell us all the time that they chose us because they loved how family oriented we are and how gentle we were with their family and the fish they caught. To be perfectly honest with you, from the moment you request a charter, until the time we tell you goodbye, you will hopefully feel like you have met a lifelong friend.  We feel that way all the time.  Getting that feeling like you have known someone your whole life is common when you fish with us.   To tell the truth, when you take people fishing who share the same ideals, morals and views about family, its no wonder you feel comfortable with them when you meet for the first time.  There is nothing better than knowing that your family is in good hands when you choose Distraction Charters.  We care and we show it.
What Distraction Charters does best for your family
All of our charters are exclusively private, which means only your group will be on the boat during the trip. This way, we can give you a perfect family fishing experience.   Because we are highly specialized in family fishing, we don't offer full day trips any longer due to the high demand we have for our "G" rated trips.  We now only offer a half day and full day bottom fishing / trolling combination trip. The half day trip is our most popular among all of our families because they give you just the right amount of riding, trolling and bottom fishing.  These half day family trips give you enough time to get you far enough offshore where fishing pressure is less and everyone will have a chance to catch a lot of fish.
Our Guest welcome upstairs policy is a favorite among families.
Our "Guest welcome in the wheelhouse policy" is a huge hit among families.   The wheelhouse is located upstairs where we drive the boat and all of the electronics are located. We are the only boat in Orange Beach that encourages you to come up. We especially love it when you bring your small kids with you.  We have kids who spend most of their time upstairs with me and we don't mind it one bit.  We actually like it because we can teach them so many things like navigation and handling a big yacht.  Even if you have a child that has autism, ADHD or some other special needs, they are always welcome upstairs with me.  We will keep them so busy that they will probably have to take a nap on the way in.  We must warn you, if they fall asleep, we might just have to draw a mustache on them.  We have more fun with kids than you can ever imagine. We have been known to start singing children songs and sometimes play my ukulele for them.   So, if you hear some kind of noise coming from upstairs that sounds like George Strait with a broken speaker and an out of tune Guitar, It's just me just picking a song.   All I will tell you is that I am a better fisherman than musician.   As long as weather and sea conditions permit it, you are always welcome to come upstairs and visit with me if you like. You can even drive the boat and ask a gillion questions if you like.