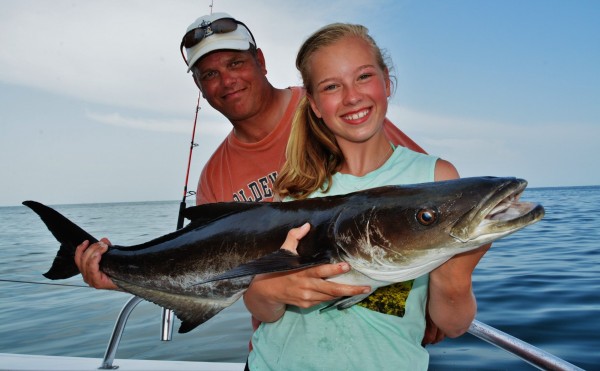 Deep Sea Fishing in Orange Beach
When it comes to taking your family deep sea fishing in Orange Beach, booking that private charter is easy and hassle-free if you choose the Distraction to serve you.  We are the first charter to specialize in offshore family fishing trips that are always "G" rated.  All of our tours give you an opportunity to fish with  a captain and crew that thinks just like you.  Since 2002, we have grown our business and have become the name synonymous when it comes to family fishing near Gulf Shores, Alabama.
We are masters of hospitality and always have a great attitude and look forward to meeting new friends and taking you fishing.  We care if your family has a good experience and we have the excellent customer reviews to prove it.  We have so much more to offer you and we help you escape ordinary® and try fishing with our new light tackle gear.  Families expect to receive the best customer service and opportunity to catch fish.    When you book your family trip with us, we will give you a choice to "catch and release" or take you to target species so you can "keep a few for dinner."  When it comes to fishing, your family will have a choice to get involved at any level they choose.   We are responsible guides and encourage our guests to only take what they need, instead of what they can when it comes to harvesting fish.
Deep sea fishing using different methods and strategies
When you choose Distraction Charters, you are not getting an average charter boat that operates like everyone else.  We do for you is teach you a different way of reef fishing that  includes methods and strategies that help your family maximize your catch and ultimately make your trip more enjoyable.
We educate, demonstrate and teach you how to use our NEW light tackle gear in a way that is stress free, laid back and not so overwhelming.   It's OK with us if hold your pole upside down and get backlashes in the line.  This is your first time fishing and we understand that those things are going to happen.  Our job is to calmly show you how to use the equipment until you get the hang of it.  If it takes a dozen times to get it right, it is OK by us.   Usually, by the time you make one or two casts, you will be catching big fish on your own. Don't worry about your kids if they do something incorrectly.  Our job is to help them learn how to catch fish on their own.  Beside, that is what a guide is supposed to do; Right?  Our fishing poles are light weight and are ideal for even the smallest anglers to use. They are also capable of handling most every fish you catch on a half day or full day trip. With us, if you need a little help, our deckhand is only a step away and ready to assist you. What we offer you is a way to experience fishing that can't be found anywhere else.
What is deep sea fishing in Orange Beach?
This type of fishing implies and is commonly understood that you will most likely be fishing in deep water or in the deep sea.  Just so you will know, most fishing off Alabama is done in water that is 65 to 125 feet deep. The reason our half day trip is ideal for families, kids and first timers is because it gets you a little further offshore to reefs that are often untouched by anyone else.   This means you have a chance to catch fish that are more aggressive.   Any bottom fishing trip less than a half day, basically puts you in a geographical box close to shore where the fishing pressure is greater and the bite might be tougher.  Half day trips get far enough offshore where you will have more opportunities to catch bigger fish.  Half day is ideal for families that even have small children.  That is why it is our most popular fishing trip.  What we do for you is give you a chance to escape ordinary and do something that is uniquely different and can't be found on any other boat in Orange Beach.
 What is bottom or reef fishing?
Bottom fishing is a term that refers to a style of fishing and a place where your baits will ultimately descend until they hit the bottom.  This is also called reef fishing because you will be catching fish that live on the reefs below the boat.  Even though we still call it bottom fishing, we don't usually fish on the bottom anymore unless we are trying to catch a grouper or a bee-liner.   Bottom fishing includes fishing on natural bottom, ledges, drop offs, rocks or artificial or man made structures. We call the places we bottom fish, "Spots" or "Reefs." Bottom fishing is also a style or technique of fishing where everyone fishes at the same time as they stand along and around the rear and sides of the boat while they fish.
Historically speaking,  bottom fishing is simple and has been used for many years effectively.  Actually, it has been a little too effective.  When you combine modern day technology like GPS navigation, it is easier to find the fishing spot over and over again.  Having better tools to find the fish has actually been good, but it has also caused over fishing of certain species to occur.  Since most of our areas have experienced over fishing, bottom fishing has become less productive as it was years ago but is making a strong come back faster than expected.  It is still an ideal method for taking a lot of people fishing, it is just not the most effective way to catch the fish that are out there today.  As fishing pressure increases, the fish evolve and get harder to catch.  In order to catch them, sometimes you have to change the way you fish.  That way for us is using light tackle.
Today, the more experienced anglers' fish with different tackle and techniques on the same spots or reefs and catch larger fish. They realized years ago that most of the fish are free swimming high in the water column above the reef. Those who fished on the bottom often bypassed all the big fish and ended up catching smaller fish near the reef. That is because small fish are at the bottom of the food chain and must stay close to the reef in order to survive. Larger fish are not afraid to venture away from the reef. Knowing this information, we no longer fish on the bottom.
How you will be fishing with us

When it comes to holding your pole and actually fishing,  we fish mostly the same way as everyone else.  The difference is the light tackle you will be using and the depth in which you will be fishing.  When it comes to actually holding your pole, you will stand against the back or side of the back gunwale and place your fishing pole in your hands, pointing the rod tip away from the boat and allow your baited hook to travel downward, toward the bottom of the sea.   We encourage you not to let your bait to hit the bottom.  Remember, we are not fishing the same way everyone else does.  We do not anchor our charter boat either.  Instead, we hover the charter boat directly above the reef where the fish live or slightly off to the side of the reef where they are schooling.   Some reefs are large and the fish might not be all in one area.  If this is so, we often make a few circles around our GPS (reef location) and find the fish on our sonar and then allow you to start fishing.  Most fishing reefs off of Orange Beach are artificial (man made) and there are some natural rock bottoms further south, away from shore to fish on.
Remember, you will not be fishing like everyone does when you choose us.  We don't use those heavy 16 oz.  weights unless the current is running and your bait can't make it to the bottom.     Our customers deserve more action than that type of fishing offers.    When you fish on the bottom, you often catch small Red Snapper (12 to 16″), White Snapper (8 to 12″), Vermilion Snapper (10 to 12″) and young Trigger fish.   The only exception is you can fish on the bottom with a single line and catch Grouper or red snapper.   In order to catch big fish, you have to fish higher in the water where they are.
Our deep sea fishing tackle
When it comes to fishing, we invest in new tackle for our customers to use each year. It's expensive, but being like me, you will appreciate knowing you are getting a chance to increase your odds of landing a big fish by not having a mechanical failure. We give you peace of mind  when you get to use newer or well maintained tackle. Our light tackle gear is more than sufficient to handle any fish you catch. Does deep sea fishing with new tackle sound like fun?
Fishing high in the water column gets results

This is our most popular style of saltwater fishing in Orange Beach. Similar to bottom fishing as mentioned above, families stand around the edge of the boat, but do not allow their baits to go all the way to the bottom of the sea floor. This is a style of fishing that has been around for many years and was mostly used by captains on their own personal trips with their own family.  When we came along and became the first charter boat to recognize the ecological and biological importance of it, we set a precedence that most other fishermen in the Gulf of Mexico recognized and are now struggling to adapt to and begin using.   We felt it was of vital importance to educate anglers as to why we should fish high in the water column.
This technique is way too important and serves as "BEST METHOD" for reducing barotrauma in fish.  Barotrauma is where the swim bladder of the fish expands on a fish caught deep in the water where he is not able to vent it naturally, thus causing him when released by an angler to float on the surface and die.  In case you catch a fish a little too deep, we have and use special venting tools on fish to deflate their swim bladder so they can return to depths unharmed.   In other words, fishing high in the water is gentler on the fish we are releasing, and that is what we are all about.
Where the big fish are caught
Years ago, local fishermen understood that the largest fish or the best grade of fish do not live on the bottom or on the reef itself. Larger fish are higher up in the food chain and unlike their smaller cousins, are not afraid to leave the security of the reef and venture up high into the water column in search of food. Larger female Red Snappers, usually live on the sea bottom and are not usually caught high in the water unless they are chummed up to the top or are really hungry.
As briefly mentioned in the above paragraph, fishing high in the water offers conservation benefit because the fish do not suffer Barotrauma.   Fish that are caught within the first atmosphere of pressure (surface to 33' deep) tend to fare better when released than those caught deeper. Fish that are caught within the second atmosphere of pressure (34 feet to 66 feet of the surface) do better than those caught in the third atmosphere or deeper. You see how this works? Deeper is not always better. We commonly use light tackle and drift line gear when fishing high in the water column because it is better on the fish and does not wear our anglers out by having to reel up heavy two hook rigs with heavy leads all the way from the bottom.
What is offshore trolling?
This type of deep sea fishing is can be done on half day trips. Most of the time, we are pulling lures and baits at the same speed we do while trolling near the shore. The length of the charter chosen will determine which type of fish you can reasonably target while offshore trolling. Within 30 miles or water that is 125 feet or less, you will most likely catch King Mackerel, Bonito, Mahi Mahi with an occasional seasonal Wahoo. Both of these fish are rare, but we do catch them especially during the summer months and up through the fall of the year. Your chances of catching a bigger fish increase as you move to deeper water or depths greater than 200 feet and up to a few thousand feet.
Ideally, we like to find rip lines or weed lines to fish when offshore trolling. Those fish don't have artificial reefs to hide on, so they are free range. When they see floating debris or a big weed line, there is usually bait fish underneath it to feed on. That is why all fishermen look for weed lines to troll their lures beside. It is these areas where you increase your chances of catching a Wahoo or a hard fighting Mahi-Mahi.
What is high speed trolling?
This type of fishing is done when traveling to and from the fishing grounds at a high rate of speed. This type of trolling is different than near shore trolling or regular trolling trips where we pull smaller baits at 6 knots or less. The speed is much faster and the gear is stronger when high speed trolling fishing.