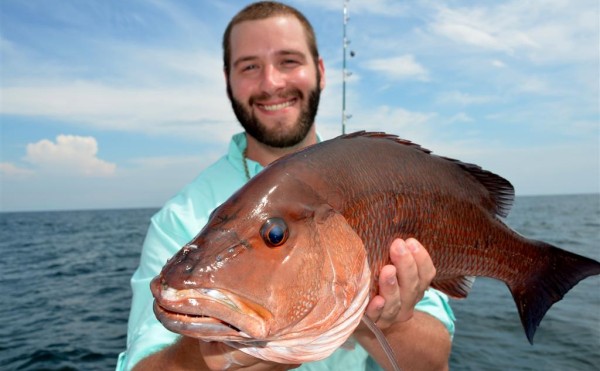 Catching Black Snapper in Orange Beach!
Have you ever caught a Black Snapper?  These fish are located offshore and are found on larger artificial reefs located just south of Orange Beach and Gulf Shores.  They are also known as Grey Snapper and Mangrove Snapper.  They have to be 12″ to harvest, but the state record is just over 15 pounds.  They are copper to black in color and the food quality is excellent.
We catch Black Snapper using light tackle while bottom fishing and it is no easy task.  These fish are smart and are hard to catch because they can see line and hooks.  The conditions must be ideal in order to catch them.  We have to hide our hooks by submerging them inside a piece of bait.
They have large Canine Teeth that are similar to Cubera Snapper but these fish offer one heck of a fight.  On calm days, you will see them coming up in the water while deep sea fishing.  The calmer the water, the better for these skiddish fish.
We have to hide the hooks and can't use any terminal tackle like swivels, etc. while fishing for them.