Brian Catches Yellowfin Tuna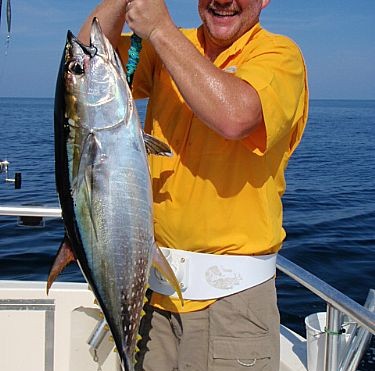 Brian Belzer from Baton Rouge is a regular guest on Distraction. He is more like family. Brian was joined today by his friends Jervey Cheveallier, David Lindsey and David's son, Travis.
Brian always comes to Orange Beach from Baton Rouge to do his saltwater fishing. Brian loves to take the 12 hour fishing charter that we offer. Today was no exception to the Man who wears the Yellow and the Purple. Yes, he is an LSU fan. He is also loves jigging for Amberjack.
We caught Red Grouper, Gag Grouper, Scamp Grouper, Amberjack, Almaco Jacks and on the way home, we hooked a big Yellowfin Tuna.
It was a classic day on the water. Even though it was the opening day of Red Snapper season, we did not target snappers at all. We ended up catching a good mess of them, they were not what Brian wanted. He wanted good eating fish like triggerfish and grouper. He certainly got them today fishing in Gulf Shores and Orange Beach.
We love days like this when everything comes together.