Orange Beach Tuna Fishing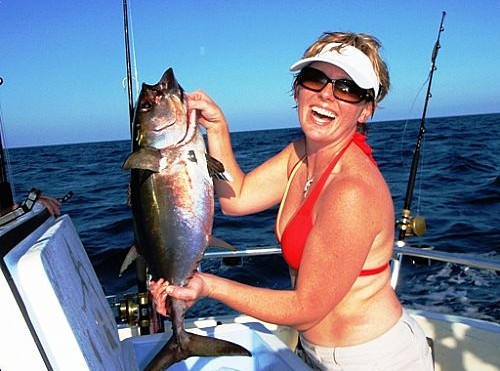 Today was a great day on the Gulf of Mexico. We headed out at the crack of dawn and went down to the deep water where the Tuna and White Marlin live just South of Orange Beach, Alabama. We had Rod Edwards and family on board from Pheonix, Arizona.
We let our outriggers down about 9 am and began pulling a lures and ballyhoo to try and catch a White Marlin, Tuna and Wahoo. We trolled the deep water that was over 130 fathoms or about 780 feet deep. The water was a blue and there were no visable tide lines. We pulled baits around the nipple for a while and began heading toward the elbow.
Upon arrival at the elbow, we had three lines go off screaming at one time. We hooked up on one line and missed the other two. It was a nice 30 pound class Wahoo. We continued trolling and about 2:45 pm, we had a White Marlin come up on the spread and went nuts. He jumped three lines to get to our special trolling lure and the fight was on.
Dr. Rod fought this fish for about 15 minutes and he was mostly hanging on for dear life. His heart was sure racing as he battled this magnificent fish. All of a sudden the line went limp. The fish jumped two times and shook his head violently. The hook was thrown and we did not get him up to the boat. We do have memories of a nice sized White Marlin jumping and fighting behind the boat.
On the way in, we were high speed trolling and we caught this nice Blackfin Tuna. We had a wonderful day that will always be remembered as a triple. Wahoo, Marlin and Tuna. You don't get many days like this.