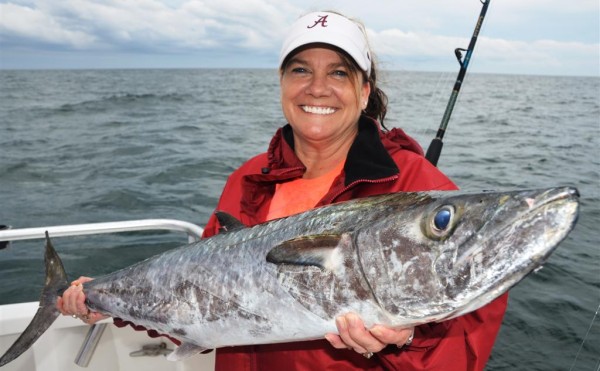 May 2013 King Mackerel Fishing in Orange Beach, Alabama
May has been a little cooler than normal this year in Orange Beach, Alabama, but that's alright by us.  With temperatures running in the mid 70's, this has sure made deep sea fishing near our Gulf Shores, a little more pleasurable.   The water has warmed up to almost 74 degrees and that has brought the king mackerel and spanish mackerel into our near shore waters with some consistency.  The cobia run is almost over, but for some reason, we are still seeing a few pairs swimming by right off the Alabama beaches heading west on their annual migration to the spawning grounds off Louisiana.   There are even a few cobia being caught while bottom fishing.
With all of the rain we have had up north in recent weeks, the muddy waters have finally made their way to our coastal waters.   On May 15, we had some really pretty water, but on the 16th, the dingy water moved in and the kings moved further offshore into deeper water in search of bait fish.    This is a normal occurrence each year for our area, but it normally happens during the month of June.    The fish bite has gotten a little tough, because of the water clarity and the influx of fresh dirty water.
We are having to spend a little more time fishing on each spot in order to get the fish to feed.  However, we did see the bite getting better on Saturday.  The reef fish like red snapper, amberjack, beeliners are all hugging the bottom where the water clarity is better than the surface water.  Hopefully in the next week or so, the muddy water will push on out of here and we can return to a southeast wind and some pretty green water.