Gulf Shores Spring Break Fishing 2014 Begins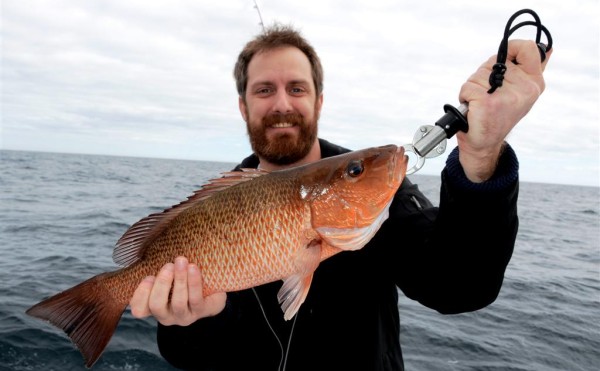 2014 Alabama Spring Break Deep Sea Fishing Season Arrives
Welcome Spring Breakers to the Alabama Gulf Coast.  2014 Spring Break Fishing has started off with a bang.  With the coldest winter in recent years, we are excited to say that the whole Global Warming trend has been reversed and we are going to be OK.   We got our charter boat off the hill a few weeks ago and we are ready to go.  We started fishing Saturday and we were not surprised that the water temperatures are 58 degrees, which is about 4 below average.
Because the water temperatures are colder than normal, as expected, the fish bite is a lot slower than normal.  We are having to fish a little harder to try and get the big ones to bite.  We sit on the spot and keep fresh bait in front of the fish until they can't resist it any longer and then the fight begins.
We had some good luck yesterday, but we worked hard.  There are no signs of trolling fish as of yet because the forage fish that they feed on don't arrive until the water warms up a little.  That means, the 6 hour trip offers the best opportunity to catch and fight a nice fish.  Most of the Red Snapper we are catching, are between 5 and 7 pounds, with a big one being close to 12 to 15 pounds.  We have to throw them back, because the season does not open until June 1.    We are catching a few triggerfish, amberjack and mangrove snapper to keep and eat.
We expect the fishing to continue to get better each day, as the weather warms up and the fish start moving around in search of food.  If you are wanting to experience fishing in Orange Beach this spring, we promise to do our best and put you on some nice fish and let you have a blast catching them.