Gulf-Shores-Alabama-summer-fishing-charters-are-fun-for-the-whole-family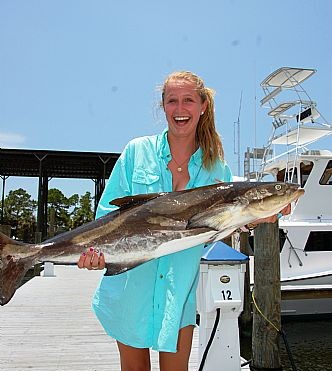 Nobody would have ever believed that just one year after the nation's worst oil spill that the fishing business on Alabama's Gulf Coast would be thriving. Because of what happened last year, hundreds of millions of people now know where Orange Beach and Gulf Shores, Alabama are. An area that used to be known as the Redneck Riviera, is now known as one of the hottest, family destinations for people from all around the world. Distraction Charters has served people from over 21 countries and is seeing record numbers of people wanting to experience deep sea fishing.
The fishing has been phenominal in 2011. With the pressure being taken off the fish during 2010 because of the oil spill, people are starving for their chance to get on the saltwater and enjoy some deep sea fishing in Orange Beach and Gulf Shores, Alabama. Never before have we seen so many new faces in our area and that is good for business.
The Cobia have been showing up in record numbers this year on Alabama's Artificial Reef System because of all of the rain we have had up north. It has taken almost a month for some of the rain to run off into the gulf, thus muddying up the water near coastal Louisiana and pushing those Cobia or Ling over to Alabama's waters in search of higher salinity concentrations. Almost every angler this past week has has a chance to catch a Cobia. Not all of them have been keepers, but as each day goes by, these fish grow and are approaching the 33 inch fork length.
We are excitied about the rest of the summer here in Orange Beach. The bookings are up and people are starving for the chance to go out on a private charter and enjoy some great Alabama saltwater deep sea fishing.