Broussard Family Red Snapper fishing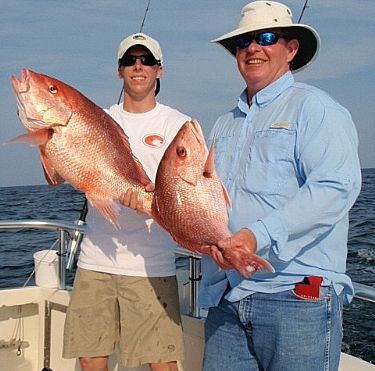 Gary Broussard enjoyed a nice Saturday afternoon deep sea fishing in Orange Beach, Alabama with his sons, Webb, Evan and Jacob. They also had their friends James Allen and Trey with them.
We headed out of Perdido Pass for some afternoon action. We rode for about 1 hour and 45 minutes to get to a reef that I had not fished since last year. Lem showed the boys how to use the light tackle fishing gear and we began fishing. Every one of the boy's hooked up on monster Red Snappers and got wrecked. Nobody could handle these monster fish. We kept breaking off. The light tackle was not holding up to these big fish, nor was luck. We moved around until we found some nice snappers that weighed between 5 and 8 pounds. These fish proved to be a challenge for these boys. They had some of the best light tackle action one could have in the salwater, south of Orange Beach, Alabama.