Boeckman Family Fishing Charter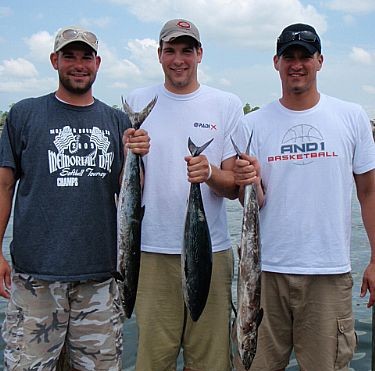 The Boeckman brothers from Ohio came down to enjoy a morning trolling for King Mackerel. Trent Boeckman, the eldest brother, along with his brothers, Todd Boeckman and Toby Boeckman came together with their uncle Steve Saintmyer and cousin Aaron. Scott even came along. We headed south out of Orange Beach this morning to see try and catch some King Mackerel. The bite was slow at first, but we started getting some good bites about 9 am. The kings and spanish bit well up all the way back to the dock.
The Boeckman brothers are some kind of neat guys. Gentlemen to be short. Trent played baseball, Toby was a lineman for the University of Cincinnati and Todd was the former Quarterback for the Ohio State Buckeyes. It was a real pleasure fishing with guys that were so cool. This is what I like best about my job. We get to meet real people from all over the country. We all have one thing in common. That is having fun and catching a few fish.
Good luck Todd in the NFL. Steve, please stay away from the green paint. We look foreward to seeing these guys again. It was a fun charter.