Alabama Spring Saltwater Fishing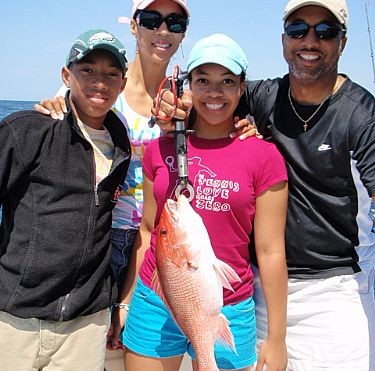 Dr. Rod, Cheryl, RJ and Christina came down from Mississippi to take an Orange Beach, Alabama Spring fishing charter. Surprisingly, we awoke to a 4 foot rollers this morning coming from the southeast. The crazy thing was the water current was coming from the west. That meant, we had to hold the boat into the wind while the fishing lines went under the boat.
The fish bite was slow all morning due to the west current and dirty water. There was a lot of debris such as river logs and sticks floating in the Gulf of Mexico. We had to watch carefully as we navigated.
We caught a lot of Red Snapper but had to let them go. We used our fish descender to return them. It is working well. We even caught a Ruby Lip and a Mangrove Snapper. The fish bite was off but the size of the fish were larger than normal. I guess the big ones are moving in.
Dr. Rod & RJ spent a lot of time with me upstairs in the wheelhouse. RJ gave me a break and drove the boat in for me. He did a great job.
We look forward to the Givens return trip in the fall to try and catch some winter bull redfish.