Lindley Fishing Charter in Orange Beach, Alabama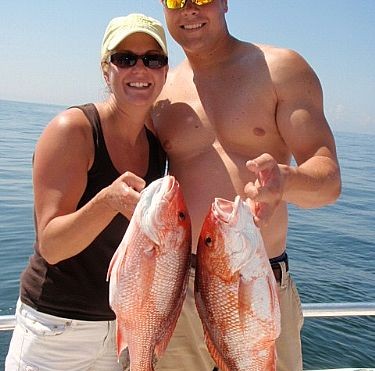 Cathy Lindley from Kentucky booked this fishing charter for her family a while back. Cathy brought Mr. Pat, Brad, Chris, Ted and Ronnie with her.
We had a great day fishing. We caught Red Snapper, cobia, mangrove snapper, mingo snapper and topped it all off with a 300 pound class Bull Shark. Lem asked them if they would like to catch a big shark and sure enough, the big one bit. We finally got the big bull shark up to the surface. We noticed a nice cobia swimming with the shark. Lem flipped a live bait out there while Ronnie was trying to hold the shark. The cobia bit and immediately took out a lot of line. The cobia was swimming on top when another big bull shark came to the surface chasing the hooked cobia. It was awesome. The cobia was too small and we had to release him.
Just another great day on the gulf of mexico, deep sea fishing.